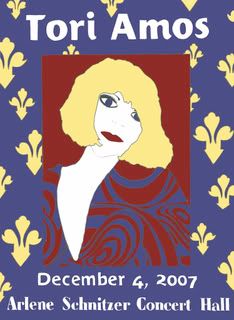 When I was seventeen my ten best friends and I (all of whom I am still in close contact with, strangely enough) saw Tori Amos on her Little Earthquakes tour. She was so beautiful. An ethereal red-headed song fairy with a punch not easily missed.

Fifteen years later, Tori is still touring. Now with four other personae to accompany her (I chose the blonde 1920s Art Deco jazz-singer beauty, "Santa" to portray in this concert poster), she has matured--no longer so tortured, no longer as angry.

When asked to execute the illustration for this concert poster at the fancy-pants Arlene Schnitzer Concert Hall in Portland, Oregon, I put an enormous amount of pressure on the design of this poster: my expectations too high, my thoughts too grand. I wanted to recreate the excitement I felt as a seventeen year old girl, to encapsulate my adolescent tragic sense of self, yet make for an eye-catching poster.

I must say, I no longer listen to Tori, except for a few songs (Leather, Silent All These Years, Cornflake Girl) that take me back to another era entirely.

The fonts are hand-wrought and of my own design and the illustration based on Tori herself (but not as herself).